Vox- A Style Statement For Your Interiors
VOX – an innovative European company manufacturing building materials and home furnishing products since late 1980's is enhancing the experience of interiors in India now. Company started operation in India in 2018 and now they cater to a large segment from ceilings, walls and facades and skirtings. The innovative new products from VOX's range Soffit Infratop – Innovative Ceiling System, Kerradeco – The Innovative Wall systems – For Interior Wall Cladding, Max 3 external cladding systems, and Kerrafront External cladding systems are some of the latest offerings from the brand. These are innovative products that provide convenience, strength, durability, and ease to the design teams while giving a premium look to the property.
On speaking with Mr. U. Vaidyanathan, President Sales (VOX), he informed us that they have done more than 5500 projects in India and demand is getting huge day by day. He also mentioned that they are continuously providing trainings to fabricators and installers and currently they have 1000+ installing partners across the country.
Each product comes with 10 years of warranty and comes with quality checks from Vox, products are manufactured in Europe and they have a huge warehouse in Bangalore which fulfils the demand across India. VOX's uncompromising commitment to quality ensures that the products are made from high-quality materials and are long-lasting. The products are designed to keep customer needs at the center and solve for new-age needs.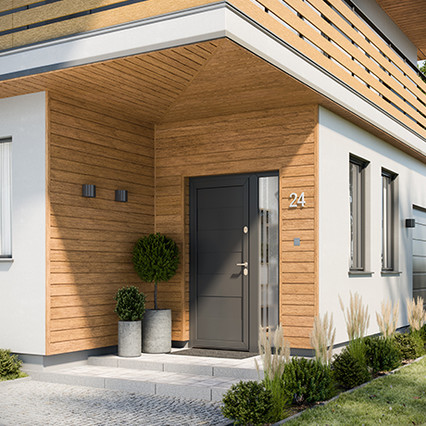 Soffit Infratop is a patented, innovative solution with a new quality roof and house ceiling system. It is easy to use in everyday life and designed both with functionality and aesthetics. It is a convenient and economical alternative to wooden and metal soffits and can be used both for indoor and outdoor applications.
Kerradeco wall system is an ideal alternative to traditional solutions such as wood, marble, granite & veneer. A wide range of designs allows you to design beautiful interiors. Max-3 is a facade system for extreme conditions, which combines the advantages of vinyl and metal siding, with the use of innovative, three-layer technology, max-3 combines high mechanical resistance with the possibility of polymer material, related to shape, color and structure.
Kerrafront is a modern façade cladding. Once installed, it does not require any maintenance in its lifetime. Kerrafront guarantees savings – it protects the interior of the building and prevents the loss of heat. It ensures good air circulation, which prevents mould. Assembly is fast and easy due to elasticity, low weight, and simple jointing. These products are designed to provide new innovative solutions to the present globally aware Indian consumers. Indian customers can visit Vox India website and can shortlist the designs according to the requirements.
Some of the key features of Vox products are
1. Made in Europe. These are premium quality product, not like Chinese products.
2. Visually appealing. The false ceiling is available as panels and in variety of colours. After fixing, these panels appear seamless. It is understated elegance at its best!
3. Natural wood look & feel. Many of us have the fascination of wood for our ceilings, but wood has several disadvantages of not being weatherproof, problems of termite infestation and so on and so forth. VOX ceiling has a warm and natural feeling.
4. Suitable for all weather condition. VOX is specially designed for both indoors as well as outdoors. It is 100% waterproof. Thus rains and humidity is not a challenge where VOX Inftratop ceilings are concerned. Also, the grooves on the panel don't let the water to be logged in. These are absolutely free of fungus and algae formation even in extreme humid conditions. It is heat resistant too. The design too is aerodynamic and thus we can easily avoid wind damages unlike real wood ceiling.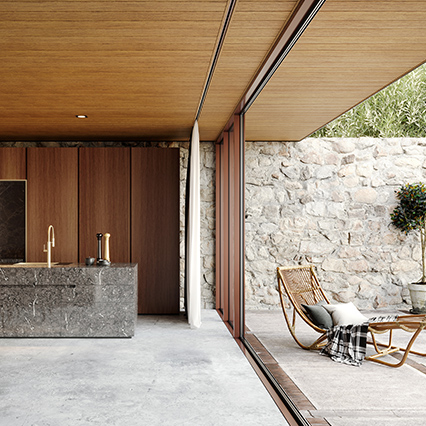 5. Water proof. The material used is 100% water proof. Even if there is a leakage in the roof, this does not damage the soffit ceiling panels, unlike gypsum or POP ceiling.
6. Flexible & bendable material. The false ceiling from VOX is engineered to be extremely flexible and durable as unlike the other varieties available in the market which may break easily. This feature is to be noted. As the area, where I have used these panels are also highlighted by means of lighting fixtures and in case, if I ever have to change these electrical fittings, easy and safe removal of these panels are guaranteed unlike in HPL or ACP ceiling.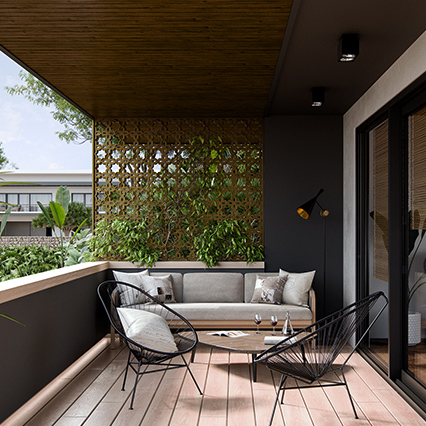 7. Thin & light in weight. The major benefit of being light weight is, it can be used in any extended area without giving extra load unlike real wood ceiling.
8. Low maintenance. Due to all these special features, the maintenance of VOX ceilings is minimal. In addition to that this product is re-usable. It can be easily dismantled due to its locking features and re- used in any other space unlike any other material used in false ceilings.
9. Finished product. The panels are a finished product and only installation is required. Additional application of putty or painting is not needed as in case of other products available in the market like Gypsum or POP ceilings.
10. Warranty. 10 years of warranty in India, which I believe no other false ceilings offer.
Interior market is getting big day by day and one can use these products to change the look and feel of their surroundings. We will try to review this product and will be writing and recording a detail review in near future. Stay tuned.
Anyone who wants to purchase the product or want to know more, can visit
VOX Building Products Pvt. Ltd.
Phone: 095285 00500
Email: customercare@voxindia.co
Facebook: https://www.facebook.com/vox.india.interiors
Instagram: https://www.instagram.com/vox.india.interior/
Pinterest: https://in.pinterest.com/voxindiainterior
Linkedin: https://www.linkedin.com/company/vox-india/
Youtube: https://www.youtube.com/@voxindia2018