Hong Kong Forum Opens with over 350 Global Business Leaders
Start-ups, e-tailing and Chinese mainland opportunities on Forum agenda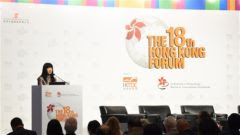 Margaret Fong, Executive Director of the HKTDC, speaking at the opening ceremony of Hong Kong Forum.
HONG KONG, Dec 5, 2017 - (ACN Newswire) - Asia's newest business opportunities are in focus at the 18th Hong Kong Forum which opened today at the Hong Kong Convention and Exhibition Centre. Co-organised by the Hong Kong Trade Development Council (HKTDC) and the Federation of Hong Kong Business Associations Worldwide, the event has attracted more than 350 business leaders from 29 countries and regions. Key topics at this year's Forum include start-ups, electronic retailing (e-tailing) and business opportunities on the Chinese mainland.
This year's Forum is participated by representatives from the Chinese mainland as well as Australia, Austria, Belgium, Canada, Denmark, Finland, France, Germany, Hungry, Italy, Japan, Latvia, Malaysia, the Netherlands, New Zealand, Norway, the Philippines, Russia, Singapore, Sweden, Switzerland, Taiwan, Thailand, the United Kingdom, the United States and Vietnam.
Bay Area and ASEAN trade agreement creating opportunities
At the Forum this morning, HKTDC Executive Director Margaret Fong called 2017 a year of changes. Noting that amid a volatile global political and economic environment, Hong Kong has once again been named the world's freest economy, underscoring the city's standing as a world-leading hub for financial, trade and professional services. Hong Kong's close ties with the mainland have also strengthened its unique role on the world stage. Fong added that the HKTDC is committed to helping SMEs develop opportunities brought about by the Belt and Road Initiative, which was a focus of last year's Forum. In addition to organising missions to countries and regions along the Belt and Road, the HKTDC is actively building new business networks related to the Initiative.
"This year, China has put forward the Guangdong-Hong Kong-Macau Greater Bay Area Initiative," said Ms Fong. "The Bay Area will be a world-class city cluster with international competitiveness. It will propel Hong Kong's innovation and technology development, which will make it a leading economic growth engine." Ms Fong added that the free trade agreement recently signed between Hong Kong and ASEAN will further promote Hong Kong's trade. The HKTDC will continue to develop connections with different markets.
Hong Kong: Cradle for start-ups
In recent years, many Hong Kong start-ups have successfully ventured into global markets. At the first seminar this morning, speakers discussed the challenges and opportunities for young entrepreneurs. Jason Chiu, CEO of cherrypicks, Eric Chen, Founder and Chief Commercial Officer, Vitargent (International) Biotechnology Limited, and Wesley Ng, CEO and Co-founder, Casetify, examined how Hong Kong's distinctive business environment can help start-ups succeed. They also shared their entrepreneurial experience. Jason Chiu said Hong Kong offers many favourable conditions for start-ups to develop, and encouraged young entrepreneurs to stay true to their style, think globally and not be afraid of failure. He said he is optimistic about the prospects for AR (Augmented Reality), VR (Virtual Reality) and eLearning, and hopes to develop enhanced technical solutions to create a better interactive learning experience for students.
Leveraging Hong Kong's unique advantages to "go out"
With the Belt and Road and Bay Area development expected to generate tremendous opportunities, Hong Kong will see a strengthening of its role as a launch pad for enterprises aspiring to go global. In the second seminar in the morning, the leaders of several renowned mainland enterprises, including Wang Tian Yi, General Manager of China Everbright International Limited, and Shen Weizhong, Director and Executive Vice President of China Mobile International Ltd, examined how mainland companies can leverage Hong Kong's professional services platform to capture market opportunities and to succeed in international markets.
Wang Tian Yi said green industries are playing a more and more important role as China's economy transitions into a "new normal", and that Hong Kong's advantages in professional services can facilitate the development of related industries in the Chinese mainland. He added that Hong Kong is just starting to focus on innovation and technology, and more resources are needed to increase the city's competitiveness in the area. Shen Weizhong said Hong Kong, with its international talent pool, favourable business environment, low tax rates and sound legal system, is the ideal platform for mainland companies to tap into global markets. He said the company will continue to leverage Hong Kong's advantages to support its business expansion worldwide.
Carrying on entrepreneurial acumen
Each year, heavyweight speakers invited to the Forum's luncheon share their views and insights. Today's Luncheon Dialogue with Dreamcatchers invited two young business leaders - Winnie Chiu, President and Executive Director of Dorsett Hospitality International, and Bosco Law, Deputy Chairman & CEO of LAWSGROUP - to share their keys to success and how they have leveraged the experience and wisdom of older generations to sustain development of their family businesses.
Mrs Carrie Lam, the Chief Executive of the Hong Kong SAR, will be the speaker at the keynote luncheon tomorrow (6 December). She will introduce Hong Kong's latest developments and business policies to participants from around the world. She will also explain how Hong Kong will establish closer cooperative relationships with regional partners to capture the opportunities presented by the new global economic order together.
New Asian e-tailing landscape
The inaugural Asian E-tailing Summit will be held tomorrow (6 December). The event will feature star speakers to comprehensively examine the latest e-tailing developments and trends. Speakers include Dai Feng Jun, General Manager of Hong Kong Suning Commerce Co., Ltd, Yang Tao, Founder and Chief Executive Officer of Kilimall International Ltd, Giulio Xiloyannis, Managing Director of ZALORA, and Kiril Popov, Senior Analyst of Fung Global Retail and Technology. The event provides a platform for industry professionals and event participants to explore Asian business opportunities.
Chongqing: Important logistics hub
Chongqing is one of China's major industrial bases, serving as a hub for the automotive, military, iron and steel and aluminium industries. The city has been actively developing modern and high-tech industries in recent years. It is also home to factories operated by many major manufacturers of computers and related products, including Taiwan's Foxconn and Inventec, and boasts immense market potential.
Iris Wong, HKTDC's Director of Belt and Road and External Relations, will lead a business delegation to Chongqing to survey the city's investment environment and development prospects. The delegation will include nearly 40 representatives from chambers of commerce from Belt and Road countries, as well as from Australia, Canada, Europe and the United States. The group will meet senior Chongqing officials, as well as visit the Lifan Group, the Hong Kong Industrial Park in Chongqing, the Chongqing Logistics City and the Chongqing Tiandi. They will also meet with Hong Kong entrepreneurs in Chongqing and explore cooperation opportunities between Chongqing, Hong Kong and overseas enterprises.
The two-day (5-6 December) Hong Kong Forum is an annual flagship event of the Federation of Hong Kong Business Associations Worldwide. The Federation was set up in 2000 and has a membership of more than 13,000 businesspeople. It has 42 association members from 31 countries and regions around the world. Chile is the new member association joining this year.