LeTV Le 1s remains available on open sale on Flipkart at price Rs 10,999
This has come barely a week after the phone's first open sale saw stocks exhausted before most people had a chance to buy because of extremely high demand. On Feb 25, the stocks were over by around 8:30 am, but today they continue to remain available as of 9:00 am.
It is likely that stocks will be exhausted in another couple of hours, going by previous trends.
The company has sold an estimated 3 lakh units before today's open sale. The total current demand for the phone is seen at between 2-3 lakh units. It is not clear how many have been put on sale today.
LeTV Le 1s is, without doubt, the most value-for-money phone in India, and offers near flagship configurations at a low-to-mid-range price of Rs 10,999. Similar models typically cost around Rs 18,000-22,000 in India.
You can also buy the phone for as little as Rs 6,000 today if you exchange an old phone. Flipkart is taking phones from most of the international brands under the exchange offer. However, phones from most of the Indian brands cannot be submitted under the exchange offer.
The open sale is likely to assuage fans who had been left with a bitter taste in mouth last week after the majority was unable to lay their hands on the device.
The latest open sale has come just two days before Le 1s' biggest emerging competitor, the Xiaomi Redmi Note 3, is unveiled in New Delhi on Thursday.
The Redmi Note 3 is expected to start selling next Tuesday via the flash sales model.
Going by the looks of it, LeTV is keen to give a phone to anyone who wants to buy its model before the Xiaomi model hits the stores. Many customers are waiting to know the price of the Redmi Note 3 before deciding which model to buy.
Based on user reviews, the Le 1s offers excellent value for money. Its weakest point has so far been the camera and high processor usage. However, that seems to have been fixed with the latest OTA update, which can also be downloaded from the company's website.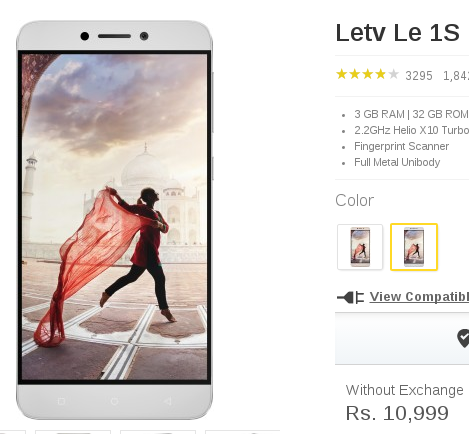 However, the Redmi Note 3 offers a faster processor and better and faster 4G, a bigger camera and superior photographic capabilities. It also supports MicroSD cards in place of the second SIM, while LeTV does not support external memory cards.
For all that though, you are likely to have to shell out anything around Rs 17,500 for the 32 GB version. Most buyers expect the 32 GB version to be priced at less than Rs 15,000, as revealed by a poll we conducted last week.
However, Xiaomi is also likely to unveil a 16 GB version as well with only 2 GB of RAM. This model could be priced below Rs 15,000, but is unlikely to appeal to buyers as the 1s comes with 32 GB internal memory and 3 GB of RAM.